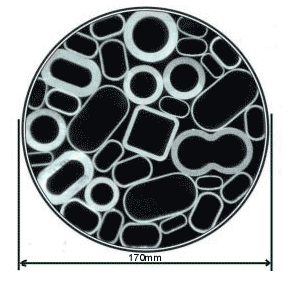 Precision Tube Production - Products
Product Range
We manufacture our products to your requirements so contact our sales team on 01844 463103 or email sales@drawntube.com and experience our first class service from enquiry to delivery.

Our Product Range
Aluminium Tube - Stainless Steel Tube - Nickel Alloy Tube - Low Expansions Alloy Tube - Copper Alloy Tube - Ornamental/Architectural

Aluminium Tube
Aluminium Tube Size Range: 3mm to 170mm O.D.
Aluminium Tube Wall thickness 0.5mm to 7mm depending on alloy, tolerance and temper.
Aluminium Tube is available in Rectangular, Flat sided, oval and Special aluminium shapes manufactured to order.

Whilst the majority of production relates to aluminium round tubes, we also have extensive fabrication facilities for tube bending, aluminium welding and assembly. See services for further information


| | | |
| --- | --- | --- |
| Small quantity Aluminium tube production | | Production assemblies and finishing |
| Aluminium Tube supplied in coil | | Aluminium tubes precision cut to length. |
Aluminium (click here to see the alloys)
Our aluminium drawn tubes offer a high integrity product allowing for improved tolerances and mechanical properties than can be achieved with straight forward extrusions.

Due to their strength, light weight and variety of surface finishes available, these alloys are readily used in a wide range of applications from building and transport industries, through to marine, processing and power plants and automotive industries.

Stainless Steels (click here to see the alloys)
Our precision drawn stainless steel tubes offer a combination of strength and corrosion resistance produced to very fine tolerances for use in a wide range of instrumentation and capillary tube applications. Tubes can be certified to a wide range ASTM and ASME standards, including pressure testing and flow testing to ensure that all requirements are met.

Nickel Alloys (click here to see the alloys)
Nickel alloys are used in a wide range of extreme environments where strength and corrosion resistance are essential at all levels of corrosion and temperature. Our precision drawn nickel alloys tubes are available in wide range of diameters and extremely tight tolerences to ensure consistent performance, quailty and reliability where it is needed most.

Low-Expansion Alloys (click here to see the alloys)
We produce a range of low-expansion alloys tubing in three main grades, Invar (Nilo 36), Kovar (Nilo K) and Alloy 48 (Nilo 48). These nickel-iron alloys are designed for their expansion characterisitics, either controlled expansion (to match that of borosilicate glasses such Pyrex in glass-to-metal seals) or low expansion over a wide temperature range. Apart from glass-to-metal seals, these tubes are also used in a wide range of metrology instruments where consistent size and shape is essential.

Copper Alloy (click here to see the alloys)
Copper alloys are widely used for a range of applications of liquid and gas transfer thanks to its ease of working with, excellent thermal conductivity, corrosion resistance and durability. We produce precision tubes for such applications as underground water and gas services, heating systems, fuel-oil, oxygen and non-flammable medical-gas systems.

Ornamental/Architectural Tube (click here to see more information)
At Precision Tube Production we stock a wide range of sizes in many different shapes of ornamental and architectural tube. Our range includes Oval Tube, Square Twisted Tube, Square Ornamental Tube and Handrail Section. To find out more click here.

We are able to supply ornamental and architectural tube in marine grades 316 and 305 commercial stainless steels as well as non-ferrous metals. These grades are well suited for a wide range of marine, structural and architectural applications.
Site Sponsored by AircraftmaterialsUK.com Ltd
Aluminium Seamless Tube - Aluminium Drawn Tube - Aluminium Precision Tube - Aluminium Aerospace Tube