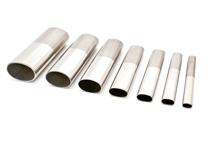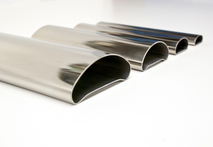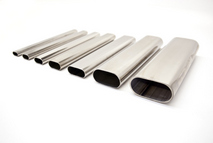 Precision Tube Production -
Ornamental / Architectural Tube
Ornamental/Architectural Tube
At Precision Tube Production we stock a wide range of sizes in many different shapes of ornamental and architectural tube. Our range includes Oval Tube, Square Twisted Tube, Square Ornamental Tube and Handrail Section.

We are able to supply ornamental and architectural tube in marine grades 316 and 305 commercial stainless steels as well as non-ferrous metals. These grades are well suited for a wide range of marine, structural and architectural applications.
We stock our products and can manufacture to your own requirements. So contact our sales team on 01844 463103 or email sales@drawntube.com.
Oval Tube
Oval section stainless steel handrail and casting system for the marine and architectural trade. The handrail and casting system enables architectural and marine metal workers to produce high quality handrails and balustrade combined with ironwork, structural glass or brickwork. The handrails may be joined by welding castings into tube without visual defects or simply dry jointed to enable continual handrail systems to be installed. There is a range of corners, end caps and joiners in 316 stainless is available. To view stock sizes click here.

Square Twisted Tube
Square Twisted Tube is an exciting new product for architects. With the increasing trend fo stainless steel handrails and balustrade Square Twisted Tube is the product for architects, fabricators and architectural metalworkers as it lends itself to traditional and contemporary designs. Square Twisted Tube is a perfect alternative to standard round or square stainless steel tube. To view stock sizes click here.

Square Ornamental Tube
Square Ornamental Tube comes in five sizes and has a form, which blends radiused corners with a very slightly convex side. Square Ornamental is easy to polish as it is supplied in a bright finish and not longitudinally, flat grained as is industry standard. To view stock sizes click here.

Handrail Section
Handrail sections have been designed with ease of installation in mind, without compromising the tactile or stylish elements if an oval handrail. There is a distinctive ridged feature which allows a flat and secure base to fit to bulwarks, brickwork and balustrade. These handrail sections are ideal for use in public buildings, private yachts, passenger liners and the smaller sections for shops and private homes. To view stock sizes click here.

Where specific properties or dimensions are required by a customer our technical and quality departments are available to define and produce suitable standards within exiting BS specifications. Contact our sales team on 01844 463103 or email sales@drawntube.com.

Disclaimer
Every effort is made to ensure that technical specifications are accurate. However, technical specifications included here should be used as a guideline only. All specifications are subject to change without notice

Site Sponsored by AircraftmaterialsUK.com Ltd
Aluminium Seamless Tube - Aluminium Drawn Tube - Aluminium Precision Tube - Aluminium Aerospace Tube